What's Hot and What's Not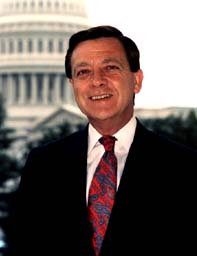 Volume 24 Issue 7
July 2018
---
By:
U.S. Senator John Seymour (ret.)
NATIONAL ECONOMY: Despite the fact that the recently revised Gross Domestic Product (GDP) for the first quarter was 2.0%, down from the original estimate of 2.2%, most economists continue to predict an annual GDP for 2018 will be 3.0% to 3.5%.
The new jobs report for May, according to the U.S. Department of Labor, reported the creation of 223,000 jobs during the month. The national unemployment rate recorded a new low of 3.8%.
Industries showing the greatest number of new jobs was a retail trade, construction, and healthcare.
The first danger signs on new jobs growth emanating from President Trump's new tariff policies will soon be seen in the automotive industries and those dependent on their use of steel and aluminum.
Consumer spending rose 0.2% in May compared to the previous month of April. The annual rate of inflation hit a six-year high in May at 2.3%.
TARIFFS & TRADE WARS: With President Trump's imposition of 20% in taxes on imported steel and 15% on aluminum imports, trade wars with Mexico, Canada, the European Union, and China have begun.
Canada has retaliated with an estimated $12.8 billion in taxes on U.S. goods. President Trump has acted under his authority to enact tariffs in order to protect our "National Security."
In the case of imposing tariffs on China as a step to protecting our National Security, a "sound" argument can be made; however, Mexico, Canada, and the European Union pose "no threat" whatsoever to our National Security. To the contrary, those countries, historically and today, represent our strongest allies in the world. Why Congress hasn't already enacted a "legal" challenge to President Trump belies no explanation.
Canada's $12.8 billion worth of taxes against American products include a 10% import taxes on a host of our products including ketchup, industrial steel, sleeping bags, yogurt, whiskey, orange juice, maple syrup, pizza, playing cards, and mayonnaise.
According to the U.S. Census Bureau data, the following states will be the most impacted by Canadian retaliatory tariffs that go into effect on July 1st. Ohio would be the hardest hit with $1.75 Billion in tariffs. Michigan would lose $1.17 billion. New York would lose $1.17 billion, Pennsylvania, $1.14 billion, and Illinois $1.02 billion.
The first notable American manufacturer to react to the Trump Tariffs was Harley-Davidson. Harley Davidson exports motorcycles around the world and announces the movement of 17,000 jobs from their plant in Wisconsin. Harley sold 40,000 bikes in Europe last year and is now faced with an import tax of $2,100 per motorcycle. President Trump immediately and angrily "tweeted" that, "If they move, watch, it will be the beginning of the end – they surrendered, they quit! The aura will be gone and they will be taxed like never before."
Mid-Continent Nail of Poplar, Bluff Missouri, manufactures steel nails and is now subject to a 25% steel import tariff. Mid-Continent tried passing the 25% cost increase to its customers but nail purchases plummeted and buyers canceled orders, opting for cheaper Chinese nails. The company has already cut their payrolls including 60 jobs. and it will soon layoff 200 more employees.
President Trump has announced a proposed 25% retaliatory tariff on European auto imports and General Motors immediately responded that Trump's auto tariffs could mean a "smaller" GM. Although it's too early to tell how Trump's trade policies will impact the U.S. economy, it won't take long to find out. Already, the stock market has fallen back to its' 2018 January lows.
Mr. President, the U.S. economy will not do well in a trade war with our allies. Impose your tariffs on China; however, leave Europe, Canada, and Mexico alone.
THE FED WATCH & MORTGAGE RATES: Federal Reserve Board Chairman Jerome Powell and his merry band of interest rate setters on the Federal Open Markets Committee (FOMC) next meet on July 31st and August 1st.
The current FED borrowing rate is 1.75% to 2.0%. Prospects for another rate hike at their next meeting are 50-50. Alternatively, they could sell some of their bond portfolios. To date, the FED's actions have been very conservative and market supported; however, as they move above a 2% borrowing rate, the risk of setting off a much higher inflation risk begins to raise a negative economic impact.
The Mortgage Credit Availability Index (MCAI) rose 1.5% to 180.6 in May, compared to the previous month. The Index reading for conventional loans rose 1%. Conventional "Jumbo" loans Index was up 2.2%, while Government loans, FHA/VA rose 1.0%
The Index readings remain far below the 600's during the sub-prime era of 2006. Mortgage rates for the week ending June 30th were up slightly from the previous week. The 30-year fixed rate mortgage with a 20% cash down payment closed at 4.84%, up from 4.83% in the previous week.
NATIONAL HOUSING MARKET: New construction housing starts rose 5% during the month of May, while new housing sales rose 6.7% versus April new housing sales. Unsold new housing inventories were at a 5.2 months' supply at the current sales pace.
Pending home sales of existing homes dropped 0.5% during the month of May compared to the previous month of April.
U.S. SUPREME COURT: Justice Anthony Kennedy has announced his retirement from the Supreme Court effective June 30th. Kennedy is 81 years old.
President Trump has said that he will announce his nomination for Kennedy's replacement on July 9th. Likely, Trump will nominate a "conservative" judge, not too dissimilar from Justice Gorsuch, Trump's last appointment.
The process should be pretty quick, as Trump has a "pre-vetted" list of twenty-five candidates last used for the Gorsuch appointment. Rumor has it that the President has reduced his choices to five candidates, including two women.
Since the Senate confirmation process no longer requires a "60" vote majority in order to take up a nomination for the Supreme Court, A simple majority of 51 will be required. Whoever, the appointment is, the court politically will shift "slightly" to the right.
Should President Trump get "one" more appointment, such as a replacement for Justice Ginsburg, the court would be controlled by political conservatives for decades to come.
IMMIGRATION: Not since the civil war has our country been so divided and in such political disunity. The far-left progressives have nearly taken over the majority of the Democrat party while the far-right Republicans have all but taken over the control of the Republican Party.
There is meanness and a hate that has permeated the political discourse on the issues. People have stopped "respectfully" disagreeing with one another and have in a growing number of instances, become violent in their protestations.
On this 4th of July, as we reflect on our nation's independence and what unique characteristics brought us, as a nation, to where we currently reside, we need to ask ourselves what kind of America do we choose to leave for future generations. The issue of immigration personifies the current state of affairs.
Although some might disagree, we are a nation of immigrants. Our original founding fathers, for the most part, escaped religious persecution in Europe and sought freedom in America. Essentially, the first ethnic group to migrate to America, after its' declaration of independence was the "Irish" who left famine and persecution of Roman Catholics in Ireland.
The Irish were not welcomed but rather shunned as they tried to integrate American Society. The Irish took the lowest paying jobs as they gained a "foothold" in American Society. It was the Klu- Klux- Klan (KKK) who led the anti-immigration of the Irish.
Next to face the challenges of immigration were the Jews in the late 1800's and early 1900's. Once again, the Jews, as an ethnic group, fled to America from the persecutions and executions of the Germans and to a lesser degree, other European nations.
In May of 1939, the German ship, St. Louis, sailed, with primarily Jewish passengers, from Germany to Cuba. Most of the Jewish passengers planned to stay in Cuba until they received American visas. However, Cuba allowed only 28 passengers to disembark and revoked all of the rest of Jewish visas. President, Franklin D. Roosevelt refused, initially, to grant temporary visas to the homeless Jews.
In 1886, France gifted the U.S. with our Statue of Liberty that today proudly stands at the New York port of entry.
France proclaimed the U.S. was enlightening the world with our freedom and democracy. Inscribed at the feet of the Statue is a poem written by Emma Lazarus. "Give me your tired, your poor, your huddled masses yearning to breathe free, the wretched refuse of your teeming shore. Send these, the homeless, tempest-tossed to me, I lift my lamp beside the golden door!" Today, America is once again faced with immigrants seeking asylum from political persecution and death by tyrannical forces.
This time the immigrants come from South America, Honduras, Venezuela, and Guatemala. Once again, we have a President, Trump, who opposes the immigration of the politically persecuted and uses the fear of crime and loss of American jobs as reasons to deny their entry. Further, President Trump has instituted the inhumane treatment of separating children from their parents and incarcerating them as we did the Japanese in the internment camps.
Come on America! We are better than this! Let's keep the promise of our Statue of Liberty!
CALIFORNIA ECONOMY: California's beautiful beaches and warm sunshine are no longer enough to continue the strong desire of millions to come to the golden state. Driven by high taxes, high rents, and the lack of affordable housing, 46% of bay area residents say they want to move out of the state, according to a recent poll conducted by the Bay Area Council.
As if the high cost of living and high taxes weren't enough to stifle California's economic growth, next will be the legal limitations on water use. The State Legislature passed and Governor Jerry Brown, signed into law, AB 1668 and SB 660. Both bills are aimed at restricting water use by both residents and businesses.
The new laws limited the use of water to 55 gallons per day, effective in 2021. Further restrictions limit usage to 52.5 gallons effect in 2025 and 50 gallons in 2030.
To provide the effect of the daily water limitations, the following is the normal daily usage today. An eight-minute shower consumes 17 gallons. One load of laundry consumes up to 40 gallons of water, and a bathtub can hold 80 to 100 gallons of water.
California has 70-million acre-feet of water that runs to the Pacific Ocean every year. One-acre foot of water equals 326,000 gallons. California doesn't have a water problem. We have a water runoff conservation problem.
The political battles between the extreme environmentalists and those who develop water as a resource for consumption are currently dominated by the extreme environmentalists. Three California proposed Dams and Water Reservoirs and their acre-feet capacity are:
Centennial Dam – 110,000-acre-feet
Sites Reservoir – 470,000 to 640,000-acre-feet
Temperance Flat Dam – 2,775,000 acre-feet
Do the math…There are 360,000 gallons of water in "1" acre-foot of water!!!
When will we elect a governor and state legislature that will put the water needs of humans above the extreme environmentalists???
CALIFORNIA HOUSING MARKET: Existing family home sales were down 1.8% in May compared to April and down 4.6% from May 2017. May's median-priced existing home sold for $600,860, up 2.8% from April and up 9.2% from May 2017.
The number of existing homes for sale in May increased by 8.3% compared to May of 2017. The unsold inventory of existing homes for sale in May, edged up to a 3.0 months' supply compared to a 2.9 months' supply in May of 2017.
DISCLAIMER: The opinions expressed herein are solely those of the author and should not, in any way, be attributed to the management nor employees of Orange Coast Title nor any of its subsidiaries or affiliates.

SOURCES: LA Times, OC Register, Fresno Bee, Sacramento Bee, San Bernardino Sun, San Diego Tribune, Wall Street Journal, NAR, CAR, NAHB, MBA, CBIA, & CMBA.