What's Hot and What's Not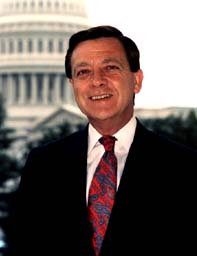 Volume 23 Issue 5
May 2017
---
By:
U.S. Senator John Seymour (ret.)
NATIONAL ECONOMY: The U. S. Commerce Department reported a drop in Gross Domestic Product (GDP) to 0.7% during the first quarter of 2017. This follows a growth rate of 2.1% in the fourth quarter of last year and was the worst quarterly growth since the first quarter of 2014. Weak consumer spending in the first quarter, down to 0.3% from 3.5% in the last quarter of 2016 was the chief culprit for the lackluster GDP performance. Weak first quarter spending on autos and other durables such as home appliances and electronics took the hit in spending.
However, the dichotomy, in spending reduction, was that consumer sentiment remained very positive according to the University of Michigan's Index which registered 97 in April compared to 96.9 in March. Perhaps American shoppers like my wife, Judy, a world class shopper, were just worn out by their shopping frenzy in December.
On the positive news front, was that business investment for the first quarter rose at a surprisingly rapid rate of 9.4%. That was ten times faster than the previous quarter and the greatest increase since the fourth quarter of 2013.
Other positive news from the first quarter was a 5.8% increase in U.S. exports. That compares to a 4.5% decline in the last quarter of 2016.
The Institute for Supply Management (ISM) reported that their ISM Index for Manufacturing in March was 57.2% and for Non-Manufacturing was 55.2%. Any Index reading above 50.0% has historically been considered as positive growth for the next six months.
Putting all the economic data together, GDP for the first quarter was down, as was Consumer Spending which represents two-thirds of our GDP; however, all the other indicators point to a positive second quarter of growth rate of 2.5% or better.
THE FED WATCH & MORTGAGE RATES: Federal Reserve Board Chair, Janet Yellen and her Federal Open Markets Committee, FOMC, meet later this week on May 2nd and 3rd. Expectations are for another interest rate increase of 0.25% from the current 0.25% - 0.50%.
The Federal National Mortgage Association, (FNMA) reported on April 28th an increase in their 30-year fixed-rate mortgage loan from 3.97% to 4.03%.
Current rates are expected to remain at record low levels for the remainder of this year. The last time we saw mortgage rates this low was 2013.
Mortgage credit remains relatively tight and continues to restrict entry level homebuyers. The Mortgage Bankers Association (MBA) published their Mortgage Credit Availability Index (MCAI) for March which was 183.4. That compares to its previous high of near 900 in 2006, during the sub-prime lending crisis.
Although mortgage credit standards have been slowly loosening, potential first-time homebuyers, with less than pristine credit, are being denied loan approval.
THE FIRST 100 DAYS OF THE TRUMP PRESIDENCY: Since the presidency of Franklin Delano Roosevelt, the American public and media have judged the performance of their newly inaugurated President after the first 100 days in the oval office.
Fair or not, the tradition has carried on. At this point in the Trump Presidency, Donald Trump has a lot of work to do after a questionable beginning. Trump's current "polling" ratings, at a 41% approval, are the lowest of any President since the "polling" of the first 100 days of American presidents began.
My personal evaluation of President Trump's first 100 days is that he merits an "A" for his nomination and confirmation for Supreme Court Associate Justice, Neil Gorsuch.
Trump merits another "A" for his Presidential Cabinet Appointees. His Cabinet is made up of experienced and talented people who are committed to his philosophies and stated policies.
Although his foreign policy decisions on North Korea and Syria are both contrary to his previously stated positions, I believe President Trump merits a "B-" grade. Had he been more aggressive in his policy to eliminate ISSIS, I would have graded his foreign policy actions as a "B."
President Trump's two greatest shortcomings have been his Presidential temperament and, to date, his unsuccessful attempts at governing. For his governing skills, he merits a "D."
The President's temperament is both "short-fused" and "mean-spirited." President Trump has used "twitter" to malign anybody who speaks negatively about him. Senator Chuck Schumer, Senate Minority leader, was characterized by President Trump as the "Head Clown" of the Senate Democrats. Is Chuck Schumer, for whom I personally have a great disliking, likely to support President Trump unless it is in Schumer's interest? I think not.
President Trump's failure in attempting to Repeal & Replace Obamacare demonstrated a lack of understanding how to govern.
With a majority of Republicans both in the House, as well as the Senate, the President should have been able to successfully achieve legislation that would Repeal and Replace Obamacare. President Trump's failure was in assuming that if anybody was a Republican that would mean that they would "automatically" follow their President.
His expectations would have been realized had he been CEO rather than President. The difference is that the Republican "Freedom Caucus" does not owe their elected office to the President and taking their vote for granted was a huge mistake.
To make matters worse, when the Republican Freedom Caucus opposed the President's bill, the President vowed to run against their re-election. That sounds more like a frustrated and angry CEO rather than a savvy President of the United States. Blaming others, whether it be the Judiciary, Republicans, Democrats, the media or "Fake News," will merely drag President Trump into the swamp of negativity. His 41% approval rating shows that.
The President's Executive Order dealing with the deportation of illegal immigrants was so badly promulgated and announced, that the President had to recall it and issue a revised Executive Order.
The President has an ambitious legislative agenda on the issues of healthcare, tax reform, infrastructure, foreign trade and immigration reform. To be successful, the President will have to quickly learn governing skills and set aside his CEO skills and TV reality show "You're Fired" attitude. He is bright and committed and can "Make America Better Again."
NATIONAL HOUSING MARKET: Spring has brought a burst of energy to the housing markets. According to the National Association of Realtors (NAR), sales of existing homes rose a surprising 4.4% compared to the previous month. Sales were up 5.9% compared to March of 2016 and were the strongest in the past 10 years.
The median existing home price, for all housing types was $236,400, up 6.8% from March of 2016 and marked the 61st consecutive month of year over year gains.
Total unsold inventories of existing homes increased by 5.8%, which is 6.6% lower than one year ago and represents a 3.8 month's supply at the current sales pace. The average length of time for an existing home to sell in the San Jose-Sunnyvale-Santa Clara California market was 24 days; San Francisco-Oakland-Hayward, California, 25 days; Seattle-Tacoma-Bellevue, Wash., and Denver-Aurora-Lakewood Colorado, 28 days; and Vallejo-Fairfield California, 31 days.
First-time homebuyers represented 32% of total sales in March. All cash sales represented 23% of total sales, and distressed sales, foreclosure and short sales were just 6% of total sales.
New home sales in March rose by 5.8% according to the U. S. Census Bureau and HUD. Unsold inventories of new homes rose to a 5.2 month's supply at the current sales pace. Historically, a six-month's supply of unsold new homes has been considered a "stable" new housing market.
Regionally, March new home sales were up 25.8% in the Northeast, up 16.7% in the West, down 1.6% in the South and down 4.5% in the Midwest.
President Trump, after threatening to pull out of the North American Free Trade Agreement, (NAFTA), imposed a 20% tariff on new "soft" lumber imports from Canada. The U.S. Lumber Industry has, for years, argued that the Canadians lumber exports have been unfairly priced because they are harvested off government owned lands at no cost to the Canadian lumber industry.
The Canadian government has appealed U.S. trade sanctions to the World Trade Organization "WTO" on five different occasions and each time the WTO has found in favor of Canada.
The National Association of Homebuilders (NAHB) strongly opposes the 20% "soft" lumber tariff, claiming that it will raise lumber prices on the cost of constructing a new home by $1,236 and will lead to a loss of nearly $500 million, annually, for American workers.
CALIFORNIA ECONOMY & STATE GOVERNMENT: The golden state created 19,300 new jobs during the month of March, according to the State's Employment Development Department (EDD). The State's unemployment rate fell to 4.9%. That's the lowest since 2006 and down from 4.7% reported for the previous month of February.
Industries showing the largest gains over the last twelve months are Construction +5.5%, Education & Health Services + 3.5%, Agriculture +3.4%, Leisure & Hospitality +2.7%, and Government +2.1%.
The five counties reporting the lowest unemployment rates are San Mateo 2.7%, Marin 3%, San Francisco 3%, Santa Clara 3.4%, and Orange 3.7%.
The five counties reporting the highest unemployment rates are Colusa 21.8%, Imperial 19.2%, Plumas 13%, Tulare 12.3%, and Merced 12.2%.
The Inland Empire, Riverside County and San Bernardino County ranked #2 and #3 in counties, nationally for new job creation. Riverside County created 25,284 jobs and San Bernardino created 24,396 new jobs.
STATE GOVERNMENT: Governor Brown signed into law the largest increase in gas taxes, transportation fees and excise taxes in the history of California. The $52 billion tax increase will provide $5.2 billion per year for road and bridge repairs and expanded mass transit in the state.
Gas taxes will be raised by 12 cents per gallon, bringing it to 30 cents per gallon effective November 1st. Another variable excise tax will be set at 17 cents. The excise tax on diesel fuel will be raised by 20 cents per gallon to 36 cents per gallon on November 1st, and the sales tax on diesel will go up by 4% to 9.75%. Electric car owners will pay a $100 annual vehicle fee in lieu of gas taxes starting in 2020. The omnibus bill also creates an annual vehicle fee ranging from $25 for cars valued at under $5,000 to $175 for cars worth $60,000 or more. The new vehicle fee begins January 1, 2018.
The $52 billion bill is dedicated to transportation projects; however, the funds will flow to the "General Fund." Historically, transportation funds have been diverted from the General Fund for purposes that have not been "transportation related."
BULLET TRAIN LOSES ITS CHIEF ENGINEER: After five years the Bullet Trains CEO, Jeff Morales resigns in June. Morales' Chief Deputy had previously announced his resignation effective in June. During Morales's tenure, the project has fallen about seven years behind schedule and estimated costs for the "first" 119-mile segment have risen by $10 billion, a 50% increase, according to a report from the Federal Railroad Administration.
The project had promised to raise funds from the private sector to partner in the projected $64 billion required to build it. Over the five-year period of leadership, Morales was unable to raise $1 from the private sector because of private studies showing the project incapable of returning a "profit."
California's State Treasurer, last Thursday, sold $1.2 billion in bonds from the $9 billion bond issue approved by voters in November of 2008.
The General Obligation Bonds will require California taxpayers to repay the bond from the General Fund and does not require the completion of construction of the bullet train nor operation of the project, nor the procurement of any other funding sources. California's taxpayers will be left "holding the bag." That just passed $52 billion transportation bill may, sooner rather than later, become the funding source for Brown's ill-fated Choo-Choo Train! After 20 years of experience at the local, state and federal levels and having been involved in hundreds of billions of dollars of public construction projects, I have never seen a project that is so financially flawed nor more financially irresponsible.
Jerry Brown's legacy as governor will be as the brainchild and chief promoter of the largest and greatest "boondoggle" in the history of America! Stay Tuned...
CALIFORNIA HOUSING MARKET: Sharing in the national surge in housing sales, the California Association of Realtors (CAR) reports an increase in March existing home resales of 4% compared to the previous month and up 6.9% compared to March of 2016.
The median price of an existing home sold in March was $517,000, that's up 8% from February and up 6.8% from March of 2016. Existing home sales in the Inland Empire posted the highest increase in sales in the entire state with an 8.5% increase.
CAR's Unsold Inventory Index of unsold homes dropped to a 3 months' supply. That's the third lowest level in the last three years.
CAR's Chief Economist, Leslie Appleton Young cautioned, "The spring home buying season is off to a good start; however, higher interest rates, a dearth of housing inventory, and slow wage growth will continue to have an adverse effect on housing affordability that is putting upward pressure on home prices, and is sure to hamper the market throughout the year."
DISCLAIMER: This monthly newsletter is posted by Orange Coast Title Company and its family of companies. The opinions expressed herein are solely those of the author and not of management or their employees. Any criticisms, corrections or suggestions are always welcomed at jfseymour55@gmail.com.

SOURCES: LA Times, OC Register, Fresno Bee, Sacramento Bee, San Bernardino Sun, San Diego Tribune, Wall Street Journal, NAR, CAR, NAHB, MBA, CBIA, & CMBA.